Apart from the pvc joinery we've got a wide range of products made of aluminium in our commercial offer.
Aliplast Imperial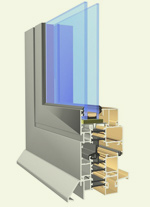 This series of high quality profiles with thermal break is applicable where more severe standards for acoustic and thermal insulation are required. The profiles for this series are constructed of 2 hollow extrusions separated from one another by polyamide strips PA 6.6.25 reinforced with glass fibre. An additional radiation barrier in the form of a strip in the same material provides the 4 chamber system.
Applications:
flush, single or double sash doors, open in Swing doors (double action)
various types of windows
Aliplast Visoglide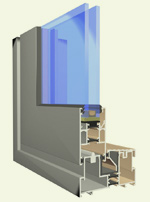 System for lift and sliding patio doors with thermal break. All the profiles of this system are 3-chamber. The overall depth of the frame amounts 99m or 155mm, and the depth of the sash – 43mm. With Aliplast Visoglide the various types of constructions are available: with two, three, four or six mobile sashes on the base of 2- or 3-rail frame.
Applications:
to separate terrace and living quarters in houses and flats,
separations for conservatories looking out into the garden and to create space in a passage way.
Aliplast Econline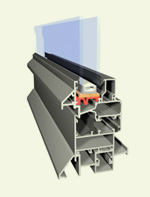 The Aliplast Econline series has been designed for internal partition walls and internal doors. The profiles overall depth of 51mm, 6mm more than in case of other common standards, gives the freedom for designers and the convenience for contractors.
Applications:
windows and patio doors for indoor use and applications where no thermal break is required,
single and double opening flat doors and touch doors,
sliding windows,
innerwalls